Arena Food & Beverage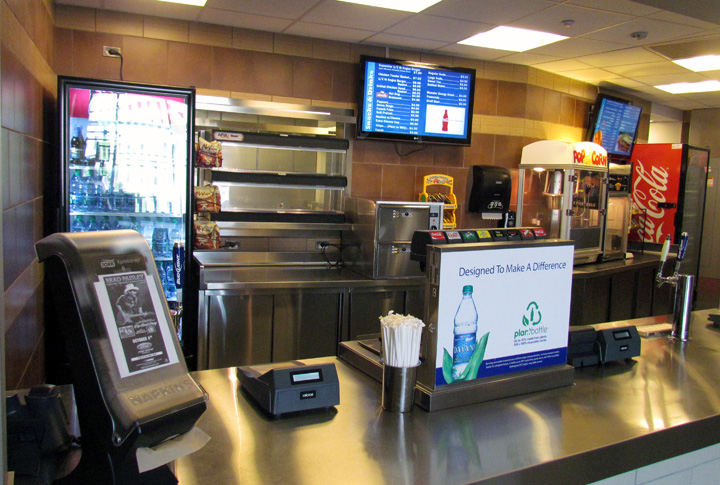 ARENA FOOD & BEVERAGE
Experience culinary classics on our main concourse level. Enjoy a delicious Grilled Chicken Sandwich or a savory Cheeseburger; try our famous Loaded Nacho Cart, or delight in a slice of pizza. Try a fresh Salad, Soft Pretzel, or stick with the kid favorite Chicken Tenders & Fries. Don't forget to grab one of our ice cold Coca-Cola products, and be sure to stop by Dippin' Dots for dessert! No matter your tastes, the Ford Center has something to satisfy your cravings.
GRILL STAND 106
Location: On the Main Concourse Level near section 106
Menu: Hot Dog, Bratwurst, Cheeseburger, Grilled Chicken Sandwich, Chicken Tenders, Salad, Fruit Cup, French Fries, Popcorn, Soft Pretzel, Pringles, Nachos with Cheese, Giant Pickle, Chips, and Candy
Beverages: Fountain Soda, Bottled Water, Powerade, Monster Energy Drink, Tea, Coffee, Hot Chocolate, and Draft Beer
PIZZA STAND 116
Location: On the Main Concourse Level near section 116
Menu: Pizza, Popcorn, Soft Pretzel, Nachos with Cheese, Chips, and Candy
Beverages: Fountain Soda, Bottled Water, Powerade, Monster Energy Drink, Tea, Coffee, Hot Chocolate, and Draft Beer
STAND 117
Location: On the Main Concourse Level near section 117
Menu: Hot Dog, Bratwurst, Popcorn, Soft Pretzel, Pringles, Nachos with Cheese, Chips, and Candy
Beverages: Fountain Soda, Bottled Water, Monster Energy Drink, Tea, Coffee, Hot Chocolate, and Draft Beer
GRILL STAND 120
Location: On the Main Concourse Level near section 120
Menu: Hot Dog, Bratwurst, Cheeseburger, Grilled Chicken Sandwich, Chicken Tenders, Salad, Fruit Cup, French Fries, Popcorn, Soft Pretzel, Pringles, Nachos with Cheese, Giant Pickle, Chips, and Candy
Beverages: Fountain Soda, Bottled Water, Powerade, Monster Energy Drink, Tea, Coffee, Hot Chocolate, and Draft Beer
LOADED NACHO CART
Location: On the Main Concourse Level near section 101
Menu: Taco Beef Nacho, BBQ Pulled Pork Nacho, Chicken Cilantro Nacho; Topping options include Black Olives, Green Onion, Guacamole, Jalapenos, Nacho or Queso Cheese, Shredded Cheese Blend, Salsa, Sour Cream
Beverages: Bottled Soda and Bottled Water
POPCORN CART
Location: On the Main Concourse Level near section 103 and 119
Menu: Popcorn, Soft Pretzel, and Candy
Beverages: Bottled Soda and Bottled Water
DIPPIN' DOTS CART
Location: On the Main Concourse Level near sections 105 and 120
Menu: Small and Regular Size Ice Cream
MAIN STREET BAR
Location: On the Main Concourse Level between sections 121 and 101
Beverages: Cocktails, Red & White Wines, Seltzers, Bud Light, Budweiser, Michelob Ultra, Busch Light, Corona Extra, Stella Artois, Shock Top, Two Hearted Ale, and Bottled Water
MLK & 6th STREET BARS
Location: On the Main Concourse Level near sections 105 and 117
Beverages: Cocktails, Red & White Wines, Seltzers, Bud Light, Budweiser, Michelob Ultra, Busch Light, Corona Extra, Stella Artois, Shock Top, Two Hearted Ale, and Bottled Water
CORNER CLUB BAR (OPEN 1 HOUR BEFORE DOORS ON CONCERT DAYS)
Location: Street Level at the corner of Main Street & 6th Street
Menu: Nachos with Cheese, Chips, and Candy
Beverages: Cocktails, Red & White Wines, Setlzers, Bud Light, Budweiser, Michelob Ultra, Busch Light, Corona Extra, Stella Artois, Shock Top, Two Hearted Ale, and Bottled Water
Not-For-Profit Fundraising Opportunities
Non-profit groups who are interested in working concessions or ID check stations at the Ford Center to raise money for their organization should contact Concessions Manager, Brandon Schenk at [email protected]