Arena Food & Beverage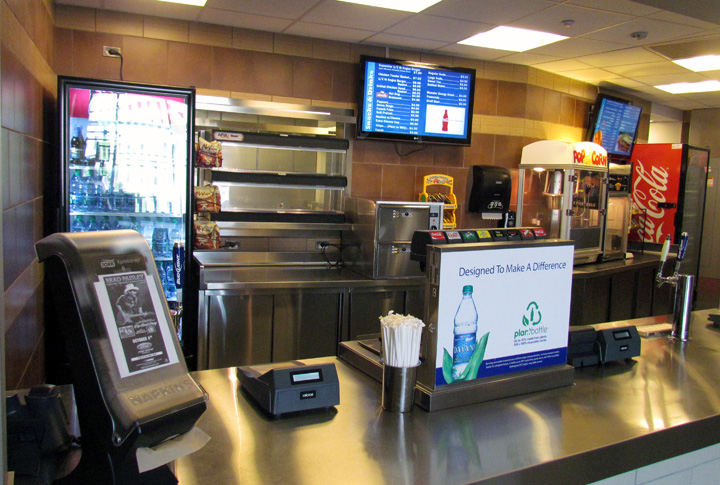 ARENA FOOD & BEVERAGE
Experience culinary classics on our main concourse level. Enjoy a delicious Grilled Chicken Sandwich or a savory Cheeseburger; try our famous Loaded Nacho Cart, or delight in Domino's Pizza. Try a fresh Salad, Breadsticks, or stick with the kid favorite Chicken Tenders & Fries. Don't forget to grab one of our ice cold Coca-Cola products, and be sure to stop by Dippin' Dots for dessert! No matter your tastes, the Ford Center has something to satisfy your cravings.
GRILL STAND 106
Location: On the Main Concourse Level near section 106
Menu: Hot Dog, Bratwurst, Cheeseburger, Grilled Chicken Sandwich, Chicken Tenders, Mini Corn Dogs, Salad, Fruit Cup, French Fries, Mini Tacos, Popcorn, Soft Pretzel, Pringles, Nachos with Cheese, Giant Pickle, Chips, and Candy
Beverages: Fountain Soda, Bottled Water, Powerade, Apple Juice, Orange Juice, Monster Energy Drink, Tea, Coffee, Hot Chocolate, and Draft Beer
PIZZA STAND 116
Location: On the Main Concourse Level near section 116
Menu: Domino's Pizza, Popcorn, Soft Pretzel, Nachos with Cheese, Chips, and Candy
Beverages: Fountain Soda, Bottled Water, Powerade, Monster Energy Drink, Tea, Coffee, Hot Chocolate, and Draft Beer
STAND 117
Location: On the Main Concourse Level near section 117
Menu: Hot Dog, Bratwurst, Breadsticks, Popcorn, Soft Pretzel, Pringles, Nachos with Cheese, Giant Pickle, Chips, and Candy
Beverages: Fountain Soda, Bottled Water, Apple Juice, Orange Juice, Monster Energy Drink, Tea, Coffee, Hot Chocolate, and Draft Beer
GRILL STAND 120
Location: On the Main Concourse Level near section 120
Menu: Hot Dog, Bratwurst, Cheeseburger, Grilled Chicken Sandwich, Chicken Tenders, Mini Corn Dogs, Salad, Fruit Cup, French Fries, Mini Tacos, Popcorn, Soft Pretzel, Pringles, Nachos with Cheese, Giant Pickle, Chips, and Candy
Beverages: Fountain Soda, Bottled Water, Powerade, Monster Energy Drink, Tea, Coffee, Hot Chocolate, and Draft Beer
LOADED NACHO CART
Location: On the Main Concourse Level near section 101
Menu: Taco Beef Nacho, BBQ Pulled Pork Nacho, Chicken Cilantro Nacho; Topping options include Black Olives, Green Onion, Guacamole, Jalapenos, Nacho or Queso Cheese, Shredded Cheese Blend, Salsa, Sour Cream
Beverages: Bottled Soda, Bottled Water, and Powerade
POPCORN CART
Location: On the Main Concourse Level near section 103
Menu: Popcorn, Soft Pretzel, and Candy
Beverages: Bottled Soda, Bottled Water, and Powerade
DIPPIN' DOTS CART
Location: On the Main Concourse Level near sections 105 and 120
Menu: Small, Medium, or Large Ice Cream
MAIN STREET BAR
Location: On the Main Concourse Level between sections 121 and 101
Beverages: Cocktails, Red & White Wines, Shock Top Draft, Stella Artois Draft, Carson's Draft, Seasonal Draft, Bud Light, Budweiser, Michelob Ultra, Corona Extra, Goose IPA, Seltzers, and Bottled Water
MLK & 6th STREET BARS
Location: On the Main Concourse Level near sections 105 and 117
Beverages: Cocktails, Red & White Wines, Bud Light, Budweiser, Michelob Ultra, Corona Extra, Shock Top, Goose IPA, Stella Artois, Coors Light, Miller Lite, and Bottled Water
NEW! - PARTY DECK BARS
Location: On the Main Concourse Level near sections 109 and 113
Beverages: Cocktails, Red & White Wines, Bud Light, Budweiser, Michelob Ultra, Corona Extra, Shock Top, Goose IPA, Stella Artois, and Bottled Water
CORNER CLUB BAR
Location: Street Level at the corner of Main Street & 6th Street
Menu: Nachos with Cheese, Chips, and Candy
Beverages: Cocktails, Red & White Wines, Bud Light, Budweiser, Michelob Ultra, Corona Extra, Shock Top, Goose IPA, Stella Artois, Seltzers, Bottled Soda, and Bottled Water
Not-For-Profit Fundraising Opportunities
Non-profit groups who are interested in working concessions or ID check stations at the Ford Center to raise money for their organization should contact Concessions Manager, Brandon Schenk at 812-422-8000 or [email protected]