Breaking News
Brought to you by Ford

FORD CENTER CLOSING For the health and safety of the public and staff, the Ford Center & Victory Theatre Ticket Office will be closed until further notice.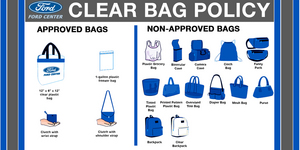 SHINEDOWN
ATTENTION ATTENTION World Tour
Multi-platinum rock band Shinedown has announced new fall tour dates on their 2019 ATTENTION ATTENTION World Tour, produced by Frank Productions, with a stop in Evansville, IN October 4 at Ford Center. Papa Roach, Asking Alexandria and Savage After Midnight will support. Shinedown has been selling out arenas and receiving rave reviews during their tour, backed by their biggest, most eye-popping production yet.
Reaching far beyond any genre or label, Shinedown's uplifting anthem "GET UP" - which has become a crossover hit at Hot AC after spending several weeks at #1 on Billboard's Mainstream Rock Songs Chart - has quickly became a beacon of light for listeners around the globe, offering an urgent and universal message of hope, empathy and encouragement that has been connecting with those going through hardships of all types and those supporting loved ones who may be struggling. Speaking to the human spirit in a time of need, "GET UP" was born from a very personal place, inspired by Brent watching his friend, Shinedown bassist Eric Bass, deal with clinical depression. Shinedown recently released a stunning new piano version of the song, propelled by the undeniable power of front man Brent Smith's voice. PRESS HERE to listen to "GET UP (Piano Version)."
"GET UP" has racked up more than 38 million streams, landed the band on Live with Kelly and Ryan, and was heard during the Walter Payton Award during the Super Bowl Pregame show among other television spots. Garnering praise from the likes of HuffPost, Salon, Rolling Stone, Consequence of Sound, Buzzfeed, Parade, Grammy.com, Popdust, No Depression and more with key playlisting on Spotify and Apple Music, "GET UP" broke a new record for Shinedown giving the band the most Rock Airplay Top 10s ever and their 13th #1 on Billboard's Mainstream Rock Songs Chart (the second most in the history of the chart, tied with Van Halen).
Shinedown's limited run of 'An Evening With Shinedown' shows is currently underway and offers fans a more intimate live experience, with the second of two back-to-back sold out shows at Ryman Auditorium in Nashville tonight. On June 21st, Shinedown kicks off their summer headlining run with support from Badflower, Dinosaur Pile-Up, and Broken Hands on coast-to-coast dates, and will headline WNOR Lunatic Luau 2019 on May 17 in Virginia Beach, VA, MMRBQ on May 18 in Camden, NJ, Rocklahoma on May 24 in Pryor, OK, Inkcarceration Festival on July 12 in Mansfield, OH, and Riff Fest on July 13 in Detroit, MI.
Shinedown's chart-topping album ATTENTION ATTENTION (PRESS HERE to listen), out now via Atlantic Records, simultaneously hit #1 on Billboard's Alternative, Top Rock and Hard Rock Albums Charts, debuted Top 5 on the Billboard 200 and spawned current Top 10 Active Rock hit "MONSTERS", #1 Active Rock hit "DEVIL," and the rousing track "THE HUMAN RADIO", in addition to "GET UP."
PRAISE FOR SHINEDOWN & "GET UP"
"At it's core, 'GET UP' deals with empathy. Smith's lyrics reflect a shared experience…pain can be a universal human experience and that sense of unconditional support and solidarity is the driving factor behind the song…" - Salon
"Emotional and personal…cinematic and nuanced…'GET UP' which began as a song written for a friend and bandmate, is now bringing its inspiring message to millions of listeners." - HuffPost
"...[ATTENTION ATTENTION is] a deeply confessional brilliant piece of work...most rock bands don't possess what Shinedown does — unfathomable talent, an unwavering fan base and unbridled tenacity." - Buzzfeed
"…conviction, authenticity, and real life intensity. Brent Smith and Shinedown are familiar purveyors of all those artistic qualities." - No Depression
ABOUT SHINEDOWN & ATTENTION ATTENTION
Shinedown - Brent Smith [vocals], Zach Myers [guitar], Eric Bass [bass, production], and Barry Kerch [drums] – has sold more than 10 million albums and 10 million singles worldwide, has 13 platinum and gold singles and four platinum and gold albums, and 14 #1 Active Rock hits, and more than 1.5 billion total overall streams to date. Each of Shinedown's 25 charting singles on Billboard's Mainstream Rock Songs Chart has reached the Top 10 – an unparalleled feat. The story that unfolds on new studio album ATTENTION ATTENTION is a poignant and enduring statement about humanity, touching on topics such as overcoming struggles, mental health, not being afraid to fail and the resolve of the human spirit. Given the deeply personal nature of the record, Shinedown went in-house for production for the first time ever, enlisting bassist Eric Bass to produce and mix the album in its entirety.
Tickets are $29.50, $49.50, $59.50 and $75