Breaking News
Brought to you by Ford

Breaking News JUST ANNOUNCED: AN EVENING WITH THE AVETT BROTHERS WILL BE COMING TO FORD CENTER NOVEBER 19. TICKETS GO ON SALE FRIDAY, JULY 19 AT 10 AM.
NCAA Division II Elite Eight
6:00 pm - West Texas A&M VS University of Southern Indiana
8:30 pm - Queen's (NC) VS Point Loma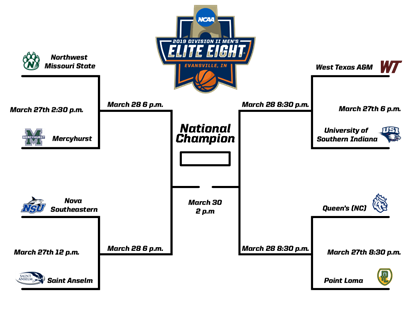 NCAA Division II men's basketball Elite Eight tickets are now on sale through the Ford Center Box Office. The 2019 post season tournament is returning to Evansville, Indiana, as the city has been selected to host for a record 24th time. The event will be co-hosted for the fourth time by the University of Southern Indiana.
The Elite Eight will be held March 27-30 at the Ford Center in downtown Evansville, marking a return to the same site that hosted the NCAA post- season event in 2014 and 2015. The Ford Center, which opened in 2011, is an 11,000 seat state-of-the-art arena located in the core of Evansville's downtown district that hosts numerous sporting events and concerts on an annual basis.
"We are very excited to have the NCAA Division II Elite Eight return to Evansville," said Evansville Sports Corporation President Eric Marvin. "There is an amazing buzz and excitement for basketball throughout the state and we receive tremendous support from fans and the business community. People in this area are really dedicated to the sport and Indiana overall takes their interest in college basketball to another level!"
The Elite Eight will feature eight Division II men's teams competing in a total of seven games over the course of four days for the honor of calling themselves an NCAA national champion. In addition to the Elite Eight games, the NABC will resume its Division II College All-Star game at the Ford Center on March 29, where 20 Division II senior student athletes will be selected to compete.
Prices:
All Session Pass: $40
Single Session Adult Pass: $18
Single Session Student Pass: $10
Group Pass (10 or more): $10